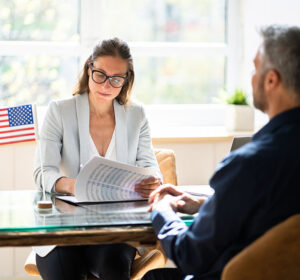 People from all over move to other countries for different reasons. Some migrate to join their loved ones, pursue an education in another country, do business, and for other reasons. When it comes to obtaining a visa to travel and stay in other countries, there are many instances when the applicants' birth certificates and other documents are written in foreign languages.
In the United States and many other countries, the government mandates that all documents written in different languages be translated entirely. The translation should also come with the translator's certification and such certification should state that the translator is competent for the task and that they provided a complete translation of official documents.
Who Can Translate Official Documents?
The US government allows any competent bilingual to provide a translation of official documents. The main requirement is typewritten translations accompanied by the needed certifications. That means just about anybody who is fluent in the source and translation languages is allowed to translate the applicant's official documents.
Why Use a Professional Immigration Translation Service?
There are many good reasons applicants should employ professionals to translate their official documents.
Speed
People applying for immigration visas usually are in a hurry. They need their application documents submitted soon, and the ordinary bilingual cannot be expected to translate as fast as the professionals. Professional immigration translators have years of experience and know exactly what to do. They have processed thousands of similar documents and can finish the task very quickly. The Spanish Group even offers a same-day delivery service for customers needing speedy translations. The inexperienced bilingual can be expected to take time to figure out what they think is the most accurate translation.
2. Precision
The translation of official documents must always be perfect. Official documents like birth certificates should be translated flawlessly, for errors can have disastrous future consequences. Professional Immigration translators are well trained, have linguistic skills, a high degree of understanding of legal jargon, relevant education, and many years of experience. You cannot expect the occasional translator to provide the same level of excellence at all times.
3. Quality Control
Professional Immigration translation service providers typically have a system of quality control. You can expect a flawless translation of your immigration documents when you hire professionals. At The Spanish Group, we employ a double review process in our translation of official and personal documents. Our certified translations in Miami and everywhere else are done with the same attention to detail and are of excellent quality.
4. Cost
Think again if you believe your bilingual friend, neighbor, or cousin will save you money by providing you with a free translation. If they make a mistake, your application might get rejected or sent back for corrections. Imagine how much that will cost you. Remember that revisions and rework are more costly and time-consuming.
5. Guaranteed Acceptance
Some companies like The Spanish Group provide certified translations in Miami and other territories with a professional translation of documents translation with extreme precision. We will deliver quality immigration translation and document services next to nobody. We are one of the very few who guarantee the acceptance of our translations.
6. Assured Confidentiality
Having a non-professional handle your translation of personal documents exposes your personal information. That is risky because your files are at risk from careless handling and fall into the wrong hands. At The Spanish Group, we employ people who are regularly checked for criminal records. In addition to this, our servers are encrypted and periodically wiped.
7. Certifications/Notarizations/Apostilles
Companies like ours are one-stop shops in translation. We offer many other services that immigration applicants need. For instance, we provide professional translator's certificates, notarizations, end even apostille services. Non-professionals do not provide that service. That means you will still have to knock on other offices if you need notarizations and apostilles.
In summary, there are very few reasons why you should entrust the processing of essential records to non-professionals. The cheap route typically turns out more expensive, if not disastrous. On the contrary, the reasons for hiring professional immigration translation services far exceed the reasons not to. You'll probably never go wrong with professionals, while you'll always be at risk with your neighborhood bilingual. Call us for the translation of your immigration documents in Miami, New York, Moscow, or in more than ninety other languages that we support. The list is linked on our home page.