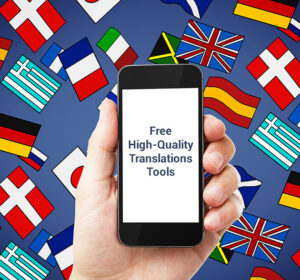 While official document translations, medical translations, and legal translations all require a highly trained language expert with real-world experience, there are many other reasons why one might require a translation without needing a high-level expert. For example, a small cafe that often caters to tourists may not want to consult a professional translator every time they add a new themed item to their menu.
For these more casual translation needs, there are plenty of tools available that can handle most of what you would require with only minor mistakes and issues. For those looking to tackle substantial projects with vast volumes of materials, a blend of human and machine translation is often ideal.
Either way, you still need a reliable "machine" for "machine translation" to have any chance of working, so for this article, that is what we will be focusing on. We will look at a handful of free translation tools that people are using to help accomplish small tasks and augment their ability to tackle much larger projects.
7 Free Translation Tools that can Improve the Quality of Your Translation Projects
The following are seven free translation tools that can be used to help improve the quality of your translation projects.
Trados Studio
Trados is software that offers machine translation capabilities, as well as the ability to edit, review, and quickly manage various documents all in a centralized space. When you upgrade from the free trial to the full version, you will get access to their cloud abilities which lets you work with a larger team or across various pieces of hardware. 
Trados offers a free 30-day trial of Trados Studio 2022, where you will be able to try out and utilize the software on your desktop computer.
Reverso
Reverso is a great company that allows you to do basic and relatively accurate translations right on their site, albeit with a 2000-word limit. Reverso uses a form of Neural Machine Translation (NMT) and allows for some very accurate translations of some complex concepts. With Reverso premium, you don't have that word limit and will be able to upload and translate full PDF, Word, or PowerPoint documents in their original layout.
Either way, the free browser-based version of Reverso allows you to make basic translations very quickly. If you want to translate a document from English to Spanish, simply make your selections and copy and paste as needed.
Linguee
Behind the scenes, Linguee operates a bit different than many of the translation services you may be seeing, as it utilizes a vast dictionary of language pairs rather than using NMT, which is similar "in function to a translation memory."
This won't mean much for users other than the type or variation of errors may be slightly different than you would find with an NMT solution. The free version of Linguee allows you to translate up to 5,000 characters and a series of other unique benefits. With the DeepL Pro features, you get better data security and the ability to translate more documents and even entire web pages. 
memoQ
memoQ is a very new proprietary computer-assisted translation software that currently runs on Microsoft Windows. This is a software that was "designed for translators by translators" and allows for working translators to have a computer-assisted translation environment. Translators can add reference materials and predictive typing and use many more tools as they translate. memoQ is also made to be compatible with most other popular translation tools. You can now download a free trial of this software and see if it is a good fit for you. 
Zanata
Zanata describes itself as a web-based translation platform for translators, content creators, and developers to manage localization projects." This software allows you to have communities translate your files, making the localization of mass amounts of documentation possible.
Lokalise
Lokalise is designed to help businesses quickly create multiple language translations for their websites, games, apps, and more, quickly and relatively error-free. You can try a 14-day free trial of Lokalise after following a few easy steps.
SmartCat
SmartCat is named after the fact it uses a CAT ("computer-assisted translation") system to support a unique blend of features that are designed to help translators work faster and more effectively. The tools that SmartCat provides make collaboration easy, and even complex multi-language projects can be accomplished with fewer hiccups than ever before.
The Proper Balance of Human and Machine Translation
As mentioned at the beginning, for most large projects, you will likely want to blend some type of machine and professional document translation services. By using machines, you can ensure you are not using trained translators to review duplicates, redundancies, or irrelevant documents and can help to focus your official document translation efforts where it matters most. Of course, finding this balance is an art form in itself in many ways, and is shifting as fast as the technology it utilizes. 
Typically, you will use machines for the first or second drafts, and then you will want to bring in the experts for your final touches and corrections. For certain types of documents, formatting and certification may be required, and this often needs those who understand the language in question to accomplish. 
We encourage you to speak to one of our friendly professionals, as we are experts in managing language projects of all scopes and types, and our helpful support staff is ready to let you know how our translators can best assist you in your translation efforts. 
How Can 'The Spanish Group' Group Help You?
At The Spanish Group, we are a worldwide leader in document translation services. We offer high-quality, accurate, and efficient translations for individuals and organizations across the globe, and we ensure that, in addition to unparalleled quality and precision, every translation you receive comes with premier customer service and guaranteed on-time delivery. 
By using The Spanish Group to translate your most important and essential documents, you can reinforce large-scale machine translations with precision and care.