The Future is Online
The future is online, and your website is your most efficient tool for tapping into the global market. Your website should be able to speak to potential customers in their native language to build affinity, and to ensure that nothing is lost in translation.
Translate Your Website into Spanish
The Spanish Group translates
Graphics;
Website copy;
Localization;
Navigation panels;
Search engine optimization;
Web and multimedia applications;
and Web and XML publishing, among other website elements.
Is Your Website Bilingual?
Many online merchants, legal firms, medical providers and small businesses misguidedly place website translation at the bottom of their priority list not knowing that this could seriously affect their business especially if they are targeting an international market. Studies have shown that online shoppers who are unable to easily understand the language of a website do not bother with automatic translation software and immediately end the transaction. Is your website bilingual?
Speed
We can work with you on a reasonable deadline depending on your particular website requirements (e.g. number of web pages and copy length per page). Our typical turn around for Spanish website translation is 1-2 business days. If you need your translated website sooner than this we also have an emergency service.
Legal Translation Experts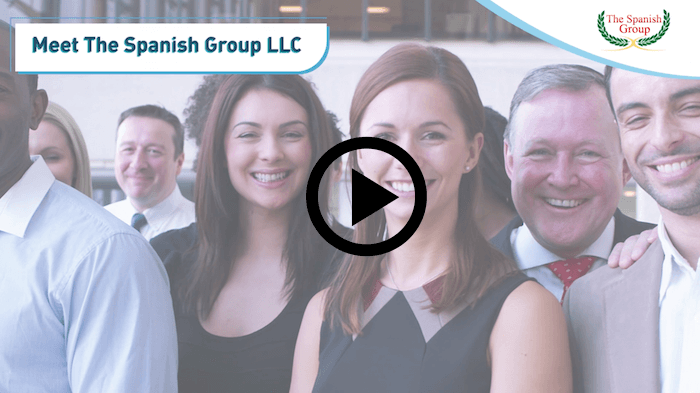 CIA Level Confidentiality
Any payment or content sent is SSL encrypted and all work is done on secured computers with active firewalls. Our translators are legally bound to non-disclosure agreements to ensure the strict confidentiality of your website content. Any information released to The Spanish Group will not be divulged to any 3rd parties.
Select Your Service
All website translations are priced per word and include certification.
Submit Your Content
Upload your website content through our quotes page or upon checkout. Alternatively, if The Spanish Group is translating content on your website, simply send the URL.
Place Your Order
Checkout online in less than 5 minutes. Too complicated? Give us a call and we'll walk you through the process.
Receive Your Translation
You will receive your website translation upon completion as soon as 1 business day.