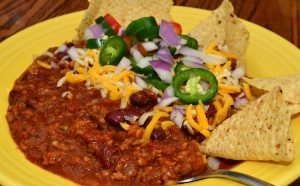 What is Tex-Mex?
Tex-Mex refers to the combination of American and Mexican food. Although, it is more popular in Texas, the influence of the cuisine has spread all over the United States, and also to neighbor countries. Tex-Mex dishes mainly use ingredients such as beef, pork, cheese, beans and, of course, spices! But, what makes Tex-Mex food really different from Mexican or American food? We can answer this question listing a few ingredients which make the big difference: cheddar cheese, beef, black beans, canned vegetables, wheat flour, and cumin. These ingredients started to be part of Mexican cuisine, although, they came from the United States. Fortunately, today we can share and enjoy recipes from all over the world, not only because we are connected, but also because we can find even the less common ingredients around the corner. So, get ready to start cooking these delicious recipes and travel with The Spanish Group to taste the best Tex-Mex dishes!
Tex-Mex Style Rice
What you need…
1 cup of white rice (long grain)
4 halves of peeled cloves
1 can of chicken broth (14 ½ oz.)
2 tbsp. of vegetal oil
¼ of corn
¼ of chopped diced carrots
¼ of salsa
Procedure
Cook the garlic in the oil until it is browned. Discard the garlic and add the rice reducing the heat to medium. Stir often. When the rice is browned, add the broth, the salsa, the carrots and the corn. Reduce the heat to low. Cook for 20 minutes and serve!
Deviled Eggs
What you need…
2 tbsp. of sliced green onions
1 tbsp. of sour cream
8 hardboiled eggs
¼ cup of mayonnaise
¼ cup of salsa
½ cup of shredded cheddar cheese
Procedure
Cut the eggs in halves lengthwise, removing carefully the yolks. Mash the yolks in a bowl, add the cheese, the mayonnaise, the salsa, the onions, sour cream and salt to taste. Mix everything. Stuff the mixture into the egg whites and take to the refrigerator until they are cold enough to serve.
Cheesy Chicken Chowder
What you need…
1 chopped onion
2 minced garlics
1 cup of sliced celery
1 ½ lbs. of boneless and skinless chicken breasts in pieces
1 tbsp. of oil
2 cups of milk
Corn chips
1 (8oz.) package of processed cheese in pieces
2 (14 ½ oz.) cans of chicken broth
1 (4 ½ oz.) can of diced green chilies
1(16 oz.) jar of chunky salsa
1 (32 oz.) package of frozen hash potatoes
1 (2 2/3) package of country gravy mixture
Procedure
In a Dutch oven, cook in hot oil the celery, garlic and onion until the onion is tender. Add the chicken, the broth and the potatoes, and stir. Bring to boil and simmer until the potatoes are tender. In a bowl, pour the gravy mix and dissolve it into the milk, and stir. Pour the milk into the soup mixture, add the cheese, the salsa and the green chilies. Serve with corn chips!
Courtesy of The Spanish Group – Business Translation Services