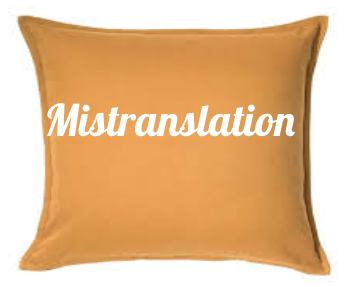 The Translation Faux Pas
Translation is a combination of hearing various types of languages and the culture behind it. Even the most experienced translator can run into challenges! Not only are translators versed in multiple languages, but they also must understand the social factors in the translation of the parties involved in discussions, even if they all speak English. Even world stage professional translators have made a faux pas!
Translation errors can have humorous consequences or terrible consequences. For example, as the result of a translator mistranscribing a Japanese manufacturing company advertisement text, a new national holiday was highly affected: a Japanese chocolate company hired a translator to say that on Valentine's Day, men should buy the women in their lives chocolate candy.
However, the TV media translator said that women should buy their men chocolate candy. Today, on Valentine's Day in Japan, women buy chocolate candy for men. Thank goodness this was a win-win for everyone. However, in the history of the U.S. politics translators have caused misunderstandings between countries.
If you remember your history, the news reported that Obamacare or the Affordable Care Act had a lot of problems launching its Spanish website. Yes, the error was generated through the computer, but human hands had to type in the name of the website which caused many Spanish enrollees not to sign up because the word "cautious" was erroneously used.
Certain Translation Challenges
Translators work in a variety of environments including corporations, government, medical communities, banks, courtrooms, and many other settings where language requires interpretation. The issue of mistranslation and other translation challenges is affected by how languages are structured and how the translation is worded.
As a certified American translator, like the rest of us, they are schooled on action verbs, nouns, articles, and sentence structures. However, a certified Spanish translator through The Spanish Group understands that both languages are translated somewhat differently in gender identification and whether it is to be used as a plural or singular translation.
Another challenge for translators are words that have different or double meanings in different languages, even in English. The Spanish Group and their certified Spanish translation service are available to translate for all industry types with high-quality translation skills. As certified Spanish translator professionals, they are well trained as skilled linguists that have been proven throughout the years.
Some Helpful Translation Tools
Professional translation services take added care in creating error-free reports. Translators also use various types of guides to ensure quality control translations. Technology is an added advantage for modern translations. While online translation services help to provide a fast turnaround time (like 1 hour) for certain types of documents. Qualified translation professionals services can also succinctly translate documents for businesses, the legal industry, websites, personal documents, the medical community, educational institutions, and all types of public and private entities with assured quality. When it comes to using an auto-translation software, it can definitely help a translator interpret foreign languages, but human translation linguists might further have to proofread and edit documents to ensure that they read smoothly and easily.
Challenges For Spanish Translators
Cultural and verbal language changes are an additional challenge for translators. New vocabulary words are added to the everyday verbiage. New grammar rules are being added to dictionaries each month and are expected to be remembered by translators. Translators cannot afford to rely on their historical account of languages. Linguists must keep up with new vocabulary words and their meaning.
Turnaround translations will, of course, vary by style but Spanish translators are known to be the fastest in the translation industry. They have learned how to shorten time-wasted techniques using talented translators and web-related tools.
Linguists from The Spanish Group are not only proficient in Spanish interpretations, they are available to translate many other languages that vary in dialect and culture which is what a qualified translation service should provide. For all your translation related queries and how to further expand your brand using translations, consult The Spanish Group.