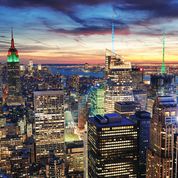 Immigrating to the United States requires one to navigate a complex series of requirements and demands. For many, merely figuring out how to start the U.S. immigration process can quickly become confusing and overwhelming. Compounding this problem, any mistakes made with your paperwork or submission process can cause significant delays and will require further steps to remedy.
While many helpful resources can be found on government websites, it isn't always presented in a way that is easy to understand, especially when all of the terms are new.
In this article, we will be covering The Immigrant Visa Process as laid out by the U.S. Department of State. Our goal here is to try and convey this information in an easy to understand format that will help you better navigate the process in the near future. In the end, we will link to several useful resources and websites that can further assist you.
While this will not be a comprehensive piece and shouldn't be used as a replacement for official sources, the hope is that this article will help you better understand and gain confidence in what needs to be done in the next steps on your immigration journey.
Table of Contents:
The US Immigration Process Steps
The US Immigration Process Steps
The following is a streamlined version of The Immigrant Visa Process as laid out by the U.S. Department of State. For more on the basics of the immigration process and how it works visit our article: Immigrating to the U.S. in 2020: What You Need to Know to Get Started
Step 1: Submit a Petition
The first step in the U.S. immigration process is having a U.S. citizen or lawful permanent resident (Green Card Holder) file Form I-130, Petition for Alien Relative, and then sending it in USCIS online or by traditional mail.
If everything seems in order, the petition for the US legal immigration process will be approved and it moves on to the National Visa Center (NVC). The NVC will create a 'case' for you in their system and it will send out a letter notifying you that the process has begun. You should also receive the information needed to allow you to log in to the Consular Electronic Application Center (CEAC), where you can manage and view the status of your case.
Step 2: Submit Fees and an Affidavit of Support
Now that the immigration process has begun, you must start to gather the required documentation in order to have your NVC interview scheduled. You will also need to pay the necessary fees to progress further in the US legal immigration process.
The Fees:
There are two processing fees you will need to pay.  You will need to pay the Immigrant Visa Application Processing Fee and the Affidavit of Support Fee. The fees must be paid through an account at a U.S. based bank, and it is paid via a routing, checking, or savings account number. You are able to pay these fees directly through your case account in CEAC. It may take upwards of a week after payment for you to receive access to the DS-260 form (the online Visa application form we will touch on later).
Affidavit of Support:
At the same time, the in-country sponsor will fill out an Affidavit of Support form that states that they accept financial responsibility for the one who is immigrating. If the sponsor's income is too low, it is possible to have a joint-sponsor support the immigration process. This financial responsibility often lasts upwards of ten years or until the person in question becomes a U.S. citizen. This means that the government may seek reimbursement for any government aid the individual receives while in the country.
There are actually multiple Affidavits of Support forms (I-864, I-864EZ, and I-864A), and you will have to figure out which one you need to fill out. You can use the poverty guidelines calculator on this page to figure out if you meet the income requirements and which Form I-864(s) you must submit. Each financial sponsor must put in an Affidavit of Support form and, after submitting the form, should collect documentation of their finances and other relevant documents. You can use the Financial Evidence Wizard to learn more about what must be submitted in support of your US legal immigration process.
Step 3: Complete Online Visa Application (DS-260)
When your CEAC is changed over to 'PAID,' all individuals must complete the Application for Immigrant Visa and Alien Registration (Form DS-260). Check out a sample DS-260 here. First, you will log into CEAC and find 'IV Application' on your summary page, which should contain a Start Now button. Print the confirmation page and bring it with you to the Interview.
Step 4: Collect, Scan, and Upload Civil Documents
After each relevant party submits a DS-260(s), you will need to start collecting up all of the necessary paperwork to finish the immigration process. Refer to the Document Finder to learn more about what may be needed from each country.
Examples of Required Civil Documents for the Immigration Process:
Marriage Certificates and Documentation
Petitioner Documents
Photocopy of Passport Data Page
Birth Certificate or Adoption Paperwork
Any Court or Criminal Records
Military Records and Police Certificates
All documents not in English will need to be combined with a certified translation and a signed statement from the translator. The Spanish Group specializes in translating all necessary documents required for the U.S. immigration process quickly and accurately. To get a certified translation started today, go here now.
Often, some documents are just not possible to obtain. If this is the case, you must turn in a written explanation for why that paper cannot be obtained. During your interview, it will be determined if you will need to obtain the missing document before you can receive your Visa.
Once you have all the documents together, you will need to scan them and save a digital record of them. You can also use a smartphone to photograph the documents if you are very careful. Libraries, community centers, and copy shops are also cheap alternatives for getting a scan.
You will upload and submit your documents in the  CEAC under Civil Documents. Make sure to bring all of the civil documents you submitted to your Visa interview. For the rules about image quality, coloring, and proper layout of scanned documents, see the scan guidelines put forward here.
After NVC looks at your case and supporting paperwork, you will get one of two responses:
Corrections Required
If NVC decides that you submitted the wrong documents or made a mistake, you will be given further instruction on CEAC. You will then need to resubmit any documents that needed correcting.
Documentarily Complete
If everything looks in order, you will be told your case is documentarily complete, and NVC will schedule an interview at your nearest U.S. embassy or consulate.
Step 5: Prepare for, and Take the Interview
You will eventually be notified of the date and time of your interview. You will get your Appointment Letter from the NVC, and then you will need to quickly get a few things done before the interview date stated.
Before the Interview:
Get a medical examination and necessary vaccinations (all applicants) from an embassy approved doctor.
Prepare Needed Documents:

Photos (recommended you use specialized professionals).
Appointment Letter.
Certified Copies or the Original of all Civil Documents Submitted to NVC.
Certified Translations of all documents not in English.
DS-5540 Public Charge Questionnaire.
DS-260 Confirmation Page.
Visa Fees.
Make sure to reschedule if you cannot make the required date!
Visa Approval
When approved, your Visa will be put on a page in your passport, you will pay the USCIS Immigrant Fee, and then you must plan to apply for admission to the U.S. before the expiration date (typically up to 6 months from the issue date).
If denied, you will be told why, and you will need to take steps to remedy the issues stated. This is generally due to the lack of some necessary supporting documentation. You will often be informed at that time of what steps you may take to get such documents or waivers.
Common Questions
What is the Immigration Process based on?
The laws that dictate U.S. immigration policy is The Immigration and Nationality Act (INA).
Under the INA, the United States grants 675,000 permanent immigrant visas a year. There is no limit to the number of immediate family members (children, spouse, parents) who can receive immigrant visas.
Can I Know How to Start the Immigration Process Quickly and Easily?
Many want to know how to start the immigration process quickly or easily. The truth is that there are very few shortcuts in the U.S. immigration process outside of getting it right the first time. Proper preparation and diligence is the best way to get the immigration process over with quickly.
How Long is the Immigration Process?
Times to resolve the immigration process can vary drastically from case to case. You can expect the process to take between one and a half to three years.
How Many Immigration Applications are Filed Each Year?
According to the 2019 USCIS data, over 300,000 family applications, 2.2 million employment authorization applications, and over  600,000 applications across other Visa categories and permits were submitted.
What is a One Step Immigration Process?
The One Step Immigration Process is another name for the One-step adjustment process. This is a relatively rare occurrence, which refers to when an opening becomes available for an immediate adjustment of a Visa (such as a student or tourist Visa) into permanent resident status. It is for those wanting a green card who are already legally living in the U.S.
Helpful Links and Resources
Visit uscis.gov/coronavirus for Covid-19 related immigration updates.