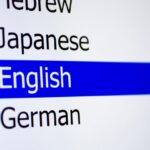 All You Need to Know About Translating Your Website into Another Language
There is a significant increase in internet connectivity and use globally. Therefore, it is possible to interact and conduct businesses with people in far-flung areas. Additionally, depending on the geographic location, you can interact with people in their native language on your website. Therefore, you must customize your website into your audience's native language. Professional language translation services will customize your website language to help you achieve a wider audience across the globe.
What are the Benefits of Translating Your Website?
There is a significant increase in online interactions leading to websites' need to reach a wider audience. Language and cultural barriers may deny some websites the ability to get potential clients. Many websites benefit significantly from engaging their global audience with content that resonates with them. The following are the benefits of using professional translation agents to customize your website language into a native form:
Get more traffic to your website.
English is not the most widely used language of communication globally. Yet, a significant proportion of online content is in English. Therefore, it means that most websites do not cater to the language needs of their users. Making your website multilingual will attract more users to your website.
Google Analytics always shows the areas where your users are accessing your website. Additionally, Google suggests the languages your audience used to access your website. Therefore, to enhance the user experience, you will need to translate your website into a native language.
Build trust with the user
A reputable foreign language translator will convert your website language into a native form. The service will also adapt your website to the native culture. Adaptation of your website to fit the native language and culture will increase levels of trust the customer has in the services you provide. The familiarity will make the user want to revisit your website.
Optimize rankings with Google
Translating your keywords into a native language is one way to ensure your website ranks highly in the search results. You maximize your website chances of appearing in your audience search results when your keywords and metadata are in the native language. Professional translation of the language of your website is one way to improve your SEO.
Potential customers visiting your website will most likely buy from you if they can communicate with you in their native language. Customers tend to identify with brands that take their language and cultural needs into consideration.
Improve customer perception of your brand
Your customers are likely to shop again from a website that mirrors their cultural outlook. Customers want to bond with a website that embraces them culturally. Additionally, if the client can use their native language on your website, they will feel at ease buying from you. The familiarity will make the client want to build a lasting relationship with your website.
Gives you a competitive edge
Translating your website keeps you ahead of your competition. How well your website performs is dependent on how broad the audience you can reach is. Using a professional translator gives you a distinct advantage over your competitors. More users will flock to a website that communicates in a familiar language.
Two Vital Considerations in Language Translation that Will Make Your Website Culturally Compliant
Translating a website requires more than the conversion of one language to another. A native language is more than just an arrangement of words. There are numerous subtleties and cultural aspects to capture in the translation. Human beings are an essential part of the process for a high-quality, professional translation of content in a specific domain. Therefore, for effective translation of your website language, the following elements are taken into consideration:
For an adequate translation of your website language, you require more than a translation tool. You need the services of a professional who is a native speaker of the language into which you wish to convert your website. A foreign language translator will capture the emotions, culture, and other nuances of the native language. Your website users will therefore appreciate the translation effort because the familiarity will make them more comfortable.
Culturally acceptable images
Images that are acceptable in some parts of the world could be offensive in other regions. Adaptation of the native culturally acceptable images is a vital process of language translation. The use of appropriate culturally compliant content on your website improves your professionalism. Avoid driving users away from your website due to culturally offensive illustrations. Use professional services to upload culturally acceptable pictures that are in line with your website values.
How to Choose Quality Translation Services for Your Website Language
Professional language translators not only translate the language but also customize your website to fit the culture of your audience. Additionally, the translators bring out your company values in a way that promotes your company image according to your customers. Tips to follow when choosing a foreign language translator include:
Do your research and compare different translators to get the best services at affordable rates.

Get a company with translators who work into their native language to capture the nuances of the native language effectively.

Engage a translator service that has experience in your field of expertise like medical, law, education for effective translation.

Use a translator who will provide efficient customer services and support before and after the translation work.

Work with a reputable translation service with excellent reviews from previous customers.

The translators should have the appropriate certification to show they qualify for the job.
Conclusion
You can unlock the benefits of accessing a wider global audience by translating your website. Your website needs to increase its online presence in the global online market. By converting your website into a native language, it will be easier for your business to grow strategically and tons of business opportunities will start pouring in too. Additionally, you improve your SEO making your website get high rankings with Google. Engage the services of professional language translation services to make your business language culturally friendly to your native audience.