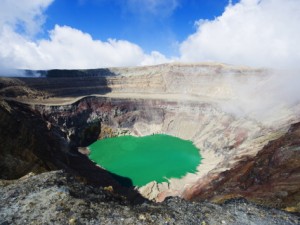 La República de El Salvador se encuentra en América Central en el litoral del océano Pacífico. Tiene una extensión de 21.041 km2, una población aproximada de 6.521.000 habitantes y un clima cálido tropical. El país limita con Guatemala al oeste, con Honduras al este y al norte, con el Golfo de Fonseca al sureste y el océano Pacífico al sur. El Salvador se divide en 14 departamentos y su capital es San Salvador.
¿Quieres saber cuáles son los lugares más hermosos para conocer allí? The Spanish Group, Servicios de Traducción Legal, te llevará a conocerlos en este artículo ¡no te lo pierdas!
La capital del país se encuentra al pie del Volcán Quezaltepec, lo cual ya lo convierte en un lugar atractivo. La ciudad en sí tiene una arquitectura muy bella, con una gran cantidad de monumentos y un centro histórico para no perderse. Recorrer San Salvador es una experiencia única ¡con una gastronomía que hay que probar! Allí puedes encontrar barrios pintorescos, bares, restaurantes, cafés, museos, teatros y una gran vida nocturna. Además de sus edificios históricos, San Salvador te sorprende con edificaciones ultra modernas, como La Torre de Cuscatlán, La Torre Futura y la Catedral Metropolitana.
Joya de Cerén, en el departamento de La Libertad, es un lugar precolombino. En 1993 fue declarado patrimonio de la humanidad por la UNESCO. Ha sido habitado aproximadamente desde el año 400 hasta el año 600. Allí se puede ver y vivir en carne propia la cultura maya. El sitio promete un recorrido por la vida cotidiana del pueblo agricultor que lo habitó, el cual abandonó el lugar debido a la erupción de la Laguna Caldera. Es un lugar que merece ser admirado porque nos traslada en el tiempo de una manera muy particular. Puedes ver exactamente cómo vivían.
Este Paraíso Entre Dos Aguas, como se lo conoce, es un encuentro entre el Estero de Jaltepeque y el mar. Se encuentra en La Paz en la Costa del Sol. Tiene muchos kilómetros de playas con hoteles, clubes playeros y restaurantes. Allí se hacen excursiones en lancha para observar la flora y la fauna del Estero, donde hay islas pequeñas, manglares, bancos de arena, playas flotantes ¡y mucho más! No es casual que sea una de las áreas protegidas del país. Una de las recomendaciones que te hace The Spanish Group es que no te pierdas los increíbles atardeceres de este lugar.
Parque Nacional Los Volcanes
¿Te gustan las caminatas y disfrutar del aire libre, los paisajes y la geografía? Si es así, este lugar es para ti. Si no es así, ¡haz un sacrificio porque no debes perderte su belleza! En el parque puedes acceder a las cumbres de los tres volcanes. Este maravilloso mirador se encuentra en el extremo oriental de la Cordillera Apaneca-llamatepec, la cual está formada por nada menos que 14 volcanes jóvenes. Tiene 3 accesos para los turistas:
El Sector Cerro Verde
El Sector San Blas
El Sector Los Andes
Este lago se formó en 1976 al crearse la Central Hidroeléctrica del Cerrón Grande. Si bien es un lago artificial, es el lugar donde se produce la energía eléctrica de todo el país. Tiene una extensión de 135 km2. En las orillas del embalse se puede apreciar su variada flora y fauna. Es un lugar ideal para pescar y disfrutar de hermosas puestas de sol.
El Salvador tiene muchos más lugares bellos en su extensión que ofrecen experiencias inolvidables. Su cultura, historia y desarrollo lo hacen un país realmente maravilloso.