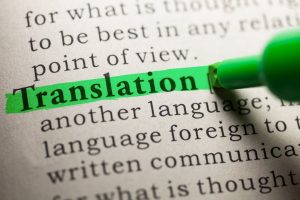 In recent years, the translation industry has been growing significantly, and there are many ways that documents can be translated now. Are you looking to translate a document for the first time? Not sure where to start? Here are the top 8 things to consider when choosing a translation service (and why we excel at them at The Spanish Group!)
Use of Human Translators
Have you heard of Google translate? Many people have! It's a way that many have been able to take one language and quickly convert it to another. But, how accurate is it? Sure, while it may be cost-saving, there is absolutely NO replacement for genuine, human translation. When choosing a translation service, make sure that you find one that has vetted translators who are entirely proficient in their native language. We promise that The Spanish Group always hires the best of the best, and you can ensure that our work is always done without the use of machines or artificial intelligence.
Ability to Translate in a Wide Variety of Languages
Working with a company that has multilingual translation services helps with ease of use of a service. Selecting a company that has a great number of translators means that they'll be able to manage a large scale project and any type of complexity of project. We translate to over 90 languages - we're ready for your task.
Location
The internet has done a tremendous service for the entire world. Now, you can get almost any service you need from the comfort of your home or office! This helps eliminate some costs in the service, allows for free-flowing communication and exceptional support, and typically means you can communicate with the provider in real-time. We're proud to be headquartered in the United States, but enjoy working globally! The internet is a great place to do business, especially in the translation field.
Quality Assurance Processes
Quality assurance is essential for an accurate, complete translation. When choosing a translation service provider, you should look for one with a documented process that includes editing and proofreading as part of the package. To err is human, and your provider should be well-prepared to make changes to your document if errors are found. One of our policies at The Spanish Group is that we'll work with you from start to finish on your documents to ensure accuracy, and will only deliver a final product once it meets your expectations.
Great Turnaround Time
There may be times that you need a document translated in a pinch - business moves quickly! Finding a company that has the means to do a quick turnaround translation is a critical part of working with a service. We're able to provide quality, accurate translations, sometimes in under 24 hours. You can trust that our service will always be flawless, no matter the deadline.
Privacy
The translation service you use should be very transparent about their policies relating to privacy and your confidential information. Since many business, legal, and immigration-related translations require complete confidentiality, you should do your research into the translation service you use to ensure that your data will never be compromised. Your information is YOUR information - we don't take that lightly. We promise complete discretion and confidentiality when it comes to translating your documents.
Exceptional Customer Support
The customer should always be number one when it comes to any service! Research a translation service provider's policies on communication, customer support, and service. Will you have an account manager? How will you receive your documents? How is the ease of use of their website? These are all items to consider when researching and deciding on a translation service. Here at the Spanish Group, our reviews speak for themselves - we pride ourselves on great translations with impeccable customer service and support from start to finish. Additional Services Provided Your needs may go beyond simple translation - that's a very common situation. When it comes to more complex projects, you should always research and choose a company that is upfront with what they are able to provide you. We're proud of the wide variety of services we have here at The Spanish Group, and we're always eagerly working to make them better and to expand our offerings.
Do your research when it comes to translation service providers - they vary significantly! Ensuring that you will have the best service and translations from the beginning makes a world of difference when you receive your final product. Let us help you translate today! Contact us to learn more and to receive a free quote.