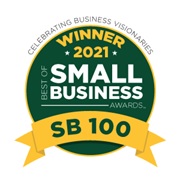 The Spanish Group had a very encouraging start this 2022!
Towards the end of last month, we were recognized as one of the Top 100 Small to mid-sized companies in the US at the "Best of Small Business Awards." It is very touching to be included in the top 100, considering that there are 30.2 million small businesses, comprising 99.9% of all companies in the United States.
This award acknowledges our team members' hard work and dedication to keep the company in tiptop shape and become an industry leader during a global pandemic. Like the rest of the world, the company faced extreme challenges due to COVID-19. To address that, we immediately implemented quick changes to protect our business, team members, and families.
This year, we move forward using a business model fully suited to the prevailing global climate. Our strict data handling processes and state-of-the-art encryption systems ensure client privacy. And our 24-hour translation and customer service availability will guarantee a quick response to all client needs. We do everything possible to serve our customers despite the current global health crisis. We remain ready, at all times, to deliver the most accurate translation at the shortest turnaround times.
We thank The Small Business Expo for this recognition. It inspired us to work harder and serve our customers better. We remain determined to stay ahead of the competition to keep our customers and employees happy.