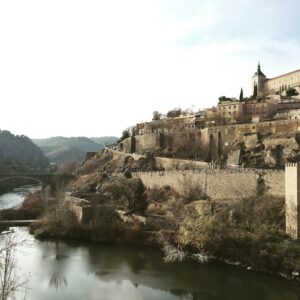 Part One: Travel Documents for Spain
Studying abroad in Spain will be an enriching experience to immerse yourself in Spanish culture and cuisine! However, as a U.S. citizen, it is crucial to understand the necessary steps and requirements in order to be permitted into the country. This also includes translating specific documents before going to the Consulate. With all of the formalities surrounding the visa application, it can be intimidating. Follow along below to ensure you'll get approved!
Once you obtain documents such as your passport, proof of university you're studying at in Spain, photo IDs, medical certificate, birth certificate, etc., some additional documents must be Apostilled. An Apostille is a seal which contains information about the document it legalizes and is attached to your original document to certify that it is legitimate and authentic. In the United States, the Secretary of State of each state is able to issue an Apostille. An Apostille can take anywhere between 1 day and 3 weeks to be issued.  
Those planning on being in Spain for more than 6 months (180 days) and are more than 18 years old, need to acquire a criminal background check. It should be formatted as a "signed official letter" that indicates that your criminal records were verified with your confirmed identity. It is required that you obtain a background check from every state or country where you have resided for more than 6 months over the last 5 years. Background checks that were issued over 3 months ago and are not from a national authority. (F.B.I./ F.B.I. Channeler approved) or a statewide authority (like the State Department of Justice) will not be approved.
Once you have an official letter, it must be legalized with the Apostille of The Hague which will be a two page document. The first page will be the Apostille and the second page will be the official letter from your background check. The background check with the Apostille already attached should be translated into Spanish by a Spanish Sworn Translator from Spain (The list of Spanish Sworn Translators can be found here- starting on page 611).
For your visa appointment, you will need four items:
1.) The original background check with the Apostille attached.
2.) Sworn Spanish translations of the background check and Apostille.
3.) A photocopy of the background check and Apostille.
4.) A photocopy of the sworn Spanish translations.
Once you have everything ready, your visa application process begins once the Consulate receives your application at your appointment. According to the Spanish Consulate in Los Angeles, student visas on average take around 2-4 weeks to process, but they do not guarantee a specific time frame to finish a visa due to several approvals and authorizations that are out of the Visa Department's control. That said, it is advised to give yourself plenty of leeway before your date of departure since slots tend to fill up quickly.
You must come to your designated appointment time with all of the necessary paperwork on hand. You'll also need to pay a visa fee which is $160 that can only be written as a certified fund (money order or cashier's check) paid when you are at the visa window on the day of your appointment. Be prepared to leave your passport from the day of your appointment until the visa is issued so plan your travels accordingly. Additional questions can be directed to cog.losangeles.vis@maec.es or ask in person with an appointment.
Part Two: Living The Lush Life In Spain
When one thinks about Spain, you may envision delicious red wine, beautiful beaches, red-tiled roofs, and long siestas, but there is more to be aware of before you plan your visit.
1). Cut the Tip:
In Spanish restaurants and bars, you do not need to leave a tip. Their base salaries take this courtesy into consideration. Most Spaniards might leave something minimal like 25 cents, or 1 euro. For fancier meals, a 10 percent tip could be left but is by no means obligatory.
2). Expect Your Meals Later:
Spanish meal times differ from the States because of how late they are. In general, Spaniards eat lunch between 2 p.m. and 4 p.m. and dinner any time after 9 p.m so be aware of mealtimes when eating out! In many areas, it may be it hard to find a restaurant open before 2 p.m. for lunch or 8.30 p.m. for dinner, and if you do they might well be a tourist trap.
3). Breakfast is NOT the Biggest Meal of the Day:
Lunch and dinner are important meals in Spain, so breakfast certainly falls flat compared to the States. Most people do not eat much, if anything, for breakfast in Spain, though Madrid and Barcelona will still have some brunch spots. Typical breakfast foods in Spain include a pan con tomate (toasted bread with tomato), eggs, and coffee (always).
4). Spanish Isn't the Only Language:
Though you may think that Spanish is the only language spoken in Spain, it's important to note that Spanish is not the only official language. Some autonomous regions also have a second official language such as Catalan in Catalonia, Basque in the Basque Country and Galician in Galicia. Street signs might be in this second language, but nearly everyone will also speak Spanish, so you don't need to learn two extra languages.
5). Siestas Are Not What You Think They Are
The enduring stereotype of Spain of lounging and snoozing for hours is quickly becoming a ritual of the past. Today, with many Spaniards working in offices in large cities, there is little time for a midday nap. However, many shops and restaurants may shut their doors between 1-4 PM, but it doesn't mean that people actually sleep. Most of the time they just go home to eat lunch and spend time with their family
6). May Be Cheaper to Fly!
Spain is so diverse both culturally and geographically, so there is more to see than just Madrid and Barcelona. That said, you may find that taking a flight to other regions (with a low cost airline) may be a more feasible option, time wise but also economically than taking a train.
7). Be Prepared for the Summer Heat!
If you are especially traveling to central or Southern Spain in the summertime, temperatures in cities like Seville and Cordoba regularly reach 100+ F (40 C) in July and August. You may want to stay in a beach town or an island to endure the heat. It's also important to note that AC isn't used as commonly as in the United States.
8). Jamon is everywhere:
Jamon is a very traditional and large part of Spanish cuisine. Do not be surprised to see pig legs hanging all over the place like in grocery stores, restaurants, bars, and even gas stations!
9). Party City!
A big part of Spanish culture is going out and enjoying fiestas! There are many different ones such as Semana Santa (Easter), or you could go to some of the more famous local events such as La Tomatina in Buñol or Las Fallas in Valencia. Most cities, towns and even tiny villages host Ferias (local fairs) or there are plenty of under-the-radar festivals to try. La batalla de vino (the Wine fight) another example in La Rioja or Carnival in Cadiz, Tenerife or Badajoz.
10). Time for Kisses:
Like many other European countries, a custom to say hello or goodbye is to kiss cheeks. In general, when you've only recently met someone, it's more common to greet or say goodbye to them by shaking their hand. If you're with a friend and they introduce you to another friend, then it would be normal to give a kiss. Typically, you just place your cheeks together and make the sound of a kiss in the air.
Works Cited: