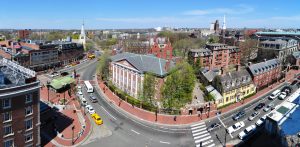 En la actualidad, y gracias a la globalización, estudiar en un país extranjero es mucho más accesible que antes. No cabe duda de que educarse en otro país y conocer otras costumbres es una experiencia muy enriquecedora que 'abre la cabeza', como solemos decir.
Afortunadamente, son muchos los países que abren sus puertas para recibir a extranjeros que quieren asistir a una Universidad. Uno de esos países es Estados Unidos. Sin embargo, debes tener en cuenta que, para concurrir a las clases en una Universidad, cualquiera sea el país, debes tener un permiso para que tus estudios sean validados cuando regreses a tu país de origen.
Estudiar En Estados Unidos
Una de las posibilidades para los estudiantes universitarios es el Programa de Pasantías que ofrece Estados Unidos. Por medio de este programa, los estudiantes o recién recibidos pueden completar o ampliar sus estudios al mismo tiempo que desarrollan sus conocimientos prácticos. Por otro lado, para cursar como alumno regular en cualquier universidad, necesitas contar con una visa de estudiante. Estas clases de visa son las F1 y M1.
La visa F-1 se otorga para estudiantes que deseen cursar a largo plazo. El alumno también puede trabajar en la institución que aprobó su solicitud. La visa M-1 está destinada para estudios vocacionales. Es decir, se otorga para alumnos que deseen completar estudios no académicos, como oficios. En este caso, no es posible cambiar la institución o la carrera. Sin embargo, en las visas F-1 se puede hacer un trámite en inmigraciones para solicitar el cambio.
Las 5 Mejores Universidades En Estados Unidos
Además de tener la posibilidad de ingresar al país para tener una experiencia cultural y académica diferente y muy enriquecedora, Estados Unidos cuenta con una gran cantidad de Universidades e instituciones de gran prestigio. Año tras año, se hace un ranking de los mejores lugares para estudiar y Estados Unidos siempre está presente. A continuación, te informamos acerca de las 5 mejores Universidades de Estados Unidos.
Harvard University – Se encuentra entre las Universidades más prestigiosas del mundo. Está ubicada en la ciudad de Cambridge, en Massachusetts. Tiene alrededor de 17 mil alumnos. Aproximadamente un 7% son estudiantes extranjeros de diferentes países. Muchos la eligen por su reconocido programa de Master en Administración y Negocios. Además, tiene programas en otras áreas.
Stanford University – Se encuentra en California y su población estudiantil se aproxima a los 17 mil alumnos. Un 5% de esos alumnos son extranjeros. Se destaca en las áreas de Ciencias de la Tierra, Humanidades, Educación, Ingeniería, Medicina y Leyes.
Massachusetts Institute of Technology (MIT) –  Está también en Cambridge. Es muy reconocido por su programa de Negocios. Más de 10 mil alumnos cursan en sus aulas todos los días y un 8% son extranjeros.
University of California, Berkeley – Está ubicada en California y tiene más de 30 mil estudiantes. Solo el 4% son extranjeros. Se destaca por la gran cantidad de departamentos y colegios con los que cuenta. Allí se puede estudiar desde Química y Medioambiente, hasta Salud Pública y Ciencias Sociales.
University of Michigan – Está en la ciudad de Ann Arbor, en Michigan. Cuenta con más de 30 mil estudiantes, de los cuales un 4% son extranjeros, y se especializa en el Máster en Administración y Negocios.

La lista continúa, existen muchas instituciones prestigiosas en el país y todas están listas para recibir a los extranjeros que quieran perfeccionarse o cursar sus estudios allí. Si quieres saber más acerca de los requisitos para estudiar en Estados Unidos, no dejes de leer el blog de The Spanish Group, Traducciones Certificadas Para USCIS.