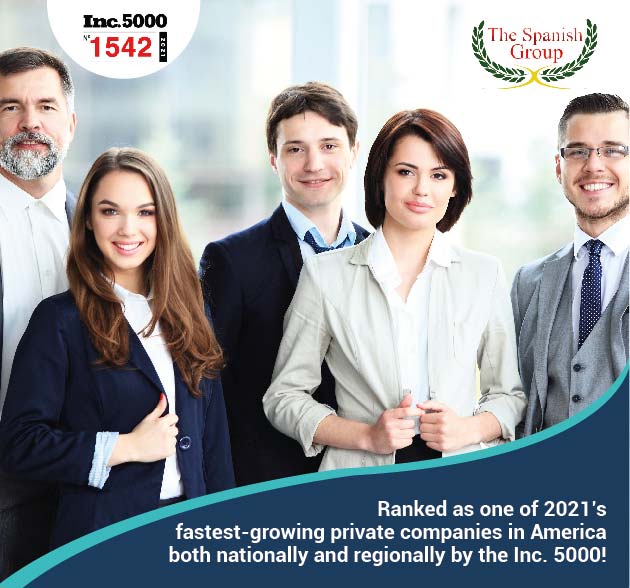 We are proud to announce that The Spanish Group has been made a part of the Inc. 5000 national list, ranking number 1,542 out of the 5000 fastest-growing small businesses in the United States. This recognition was based on our revenue growth of over 300%, which was a true triumph as it occurred amongst the challenging economy of the pandemic era.


This is an important milestone for our company as Inc. is widely recognized as one of the planet's leading business media brands. Inc. Media reaches over 50 million people each month, and their prestigious Inc. 5000 list has long been held as a benchmark for highly successful small businesses. This elite list has provided the first national exposure for brands such as Under Armour, Microsoft, Patagonia, and many other well-known names.

We would like to humbly thank our loyal customers for their continued support and for helping us to reach this exciting moment.

We thought it would be good to reflect on the choices that brought us to this level of success and to lay out what this means for the future of our business.



How Inc. Chooses the Businesses on Their List

The companies featured in the 2021 Inc. 5000 list are chosen and ranked based on their percentage of revenue growth from 2017 to 2020. These businesses must be U.S. -based and not subsidiaries or divisions of other companies. This criterion helps them to narrow it down to the fastest-growing small companies with a proven track record. For almost 40 years, this list has been a critical benchmark for weighing entrepreneurial success.


The worldwide recognition of being featured in the Inc. 5000 gives us a new opportunity to engage with other entrepreneurs and companies. It also adds further enhances our credibility as an elite translation service. This list will help us to reach more customers and allows us to continue to recruit top talent.


The 2021 list is exceptionally noticeable because, as Inc. puts it, these companies chosen have proven to be "Exceptionally resilient and flexible given 2020's unprecedented challenges." Scott Omelianuk, the editor-in-chief of Inc., has also stated that "Building one of the fastest-growing companies in America in any year is a remarkable achievement. Building one in the crisis we've lived through is just plain amazing. This kind of accomplishment comes with hard work, smart pivots, great leadership, and the help of a whole lot of people."

At The Spanish Group, we are incredibly thankful for all of those who relied on us for their language services during these tough times.
How the Spanish Group Evolved Over the Last 3 Years

The financial growth we have achieved over the last few years is 100% due to the trust and respect we have built around our name. At The Spanish Group, we have been meticulous about ensuring that every translation we provide is created with extreme professionalism by experienced and proven language experts. This level of precision has allowed us to expand into several complex and demanding industries, such as manufacturing, healthcare, and legal services. This transition into specialized fields has helped to set us apart from the competition and kept us insulated from the changes wrought on the industry by applications like Google Translate and Microsoft Translator.


We have also redoubled our efforts in being the go-to service for immigrants coming from across Central and South America, as well as underserved communities across the globe. We have helped thousands of families from all over the world find a new future through simple, effective, and straightforward processes. Our same-day services alone have been critical in stopping several deportations.


During the Covid pandemic, we were able to use our expertise in the medical field to help medical facilities and other essential services reach and better communicate with populations all over the country. These emergency services included providing critical translations for the instructions on the COVID-19 test kits being distributed on a national scale.


By continuing to evolve the scope of our services and taking on the challenges of our era head-on, The Spanish Group has found itself rewarded with a strong base of loyal customers and a name value that we wouldn't trade for anything. We are more optimistic than ever that our business philosophy and dedication to top-level services will help to guide us through whatever challenges await.


"Even in tough times, these Companies are set on reinvention. The vision that led Inc. 5000 founders to rapid growth is helping them thrive during this extraordinary crisis" -Leigh Buchanan, editor-at-large for Inc. magazine.
What the Future Looks Like for The Spanish Group

As we look deeper into 2021 and beyond, we are ready to continue our journey into becoming the world leader in language services. Our goal is to be able to provide cost-effective, fast, and accurate translations to anyone on the globe who is in need. By empowering anyone and everyone with the ability to communicate to a global audience, we believe we can help create a truly more connected world.


We want to make the language barriers that separate the world's cultures and peoples an afterthought, nothing more than a mild inconvenience. To do this, we will continue to expand into more countries and markets using the same strategy that has allowed us to enter South America and Western Europe. At the same time, we will continue to expand the scope of our services by bringing on experienced and proven language experts from other industries.


We know we can't do this alone. We will continue to provide the same outstanding services to the customers that have gotten us this far and will reinvest our success into making our services even better. With your help, and that of the new populations we will open the world up to, we know that the future for The Spanish Group is something to be excited about.


For those interested, the complete results of the Inc. 5000, including company profiles and an interactive database that can be sorted by industry, region, and other criteria, can be found at www.inc.com/inc5000.