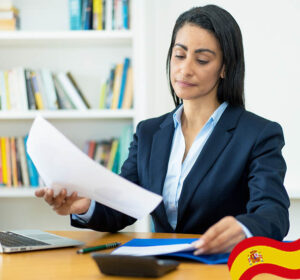 When you travel to different countries for vacation, studies, migration, or for any other reason, you will probably need to get a certified translation of your official documents. In the United States, for instance, the government requires that all documents written in a language other than English should be translated and certified.
Suppose you come from a non-Spanish-speaking country and intend to immigrate to a Spanish-speaking territory. You will probably need to get a certified Spanish translation of your birth certificate, passport, and other documents.
In Spain, for instance, a citizen outside of the Schengen area will need a visa before arrival. You must visit a consulate or embassy and present your original documents. You will also need a certified Spanish translation of those documents made by a certified translator (English into Spanish). This translation cannot be done by any bilingual. It has to be made by someone approved by the Spanish government to provide a certified Spanish translation.
Here are the documents required for Spanish residency applications
(All documents that are not written in Spanish require certified Spanish translation. A certified translator must make it for English- Spanish).
Documents needed for a certificado de empadronamiento (certificate of registration)
Proof of address, e.g., a utility bill, rental contract, deed of purchase, etc.
Passport; plus a copy of the passport ID pages
Completed application form (obtainable at the Padron office)
Documents needed for an NIE/TIE (identification number and foreigners' identification card)
Appointment confirmation (sent to your email)
Proof of enrollment in a school
Passport and a photocopy
A photocopy of your Spanish long-term visa and entry stamp
Three passport-size photos, white background, not older than three months
Your Certificado de Empadronamiento; (see above)
A copy of the completed EX-17 application form
A copy of the tax form 790 Code 012
Receipt of paying the tax fee
Documents needed for a Schengen visa
Visa application form. Fully completed and signed
Two recently taken photos must be attached
A valid passport
Round-trip reservation or itinerary
Travel insurance policy
Proof of accommodation
Proof of financial means. Bank account statement – that shows you have enough money in your account for the trip. The statement shall be no older than three months
Sponsorship Letter
Proof of paid visa fee
All documents are to be accompanied by a sworn (certified) translation if not in Spanish
Documents needed for a Spanish extended stay visa
Completed Application form;
Passport
2x passport photos;
Proof of sufficient financial income or assets for the duration of stay;
Proof of Spanish health insurance;
Proof of fee paid;
Doctor's certificate to show you have no underlying serious health conditions;
Criminal record check;
Proof of employment/ educational course depending on the type of visa;
Other documents are dependent on the exact type applied for.
All documents are to be accompanied by a sworn translation if not in Spanish.
Documents needed for Spanish citizenship applications by naturalization:
A completed application form;
Your passport, valid for at least six more months;
Three passport-sized photos;
NIE number (if applying while living in Spain);
Copy of your permanent residence visa;
Application fee;
Proof of Spanish health insurance;
Proof of 10 years or more residency in Spain;
Criminal record clearance certificate from your own country;
Spanish criminal record clearance certificate issued by the Registro Central de Penado within the last 90 days;
Proof of Spanish language proficiency, up to CEFR-A2 level;
A CCSE exam certificate, showing familiarity with Spanish culture and laws.
All documents must be accompanied by a sworn translation if they are not in Spanish.
In closing, most countries require a certified translation of all submitted documents written in another language. Some countries, however, accept translations made only by their accredited translators. Therefore, it is wise for you to research before spending on document translation. Have your official documents translated only by certified professionals. When you hire certified professionals, you will save time and money and ensure the acceptance of your application documents.
https://translayte.com/blog/moving-to-spain#:~:text=Any%20document%20in%20English%20or,validated%20by%20the%20Hague%20Convention.