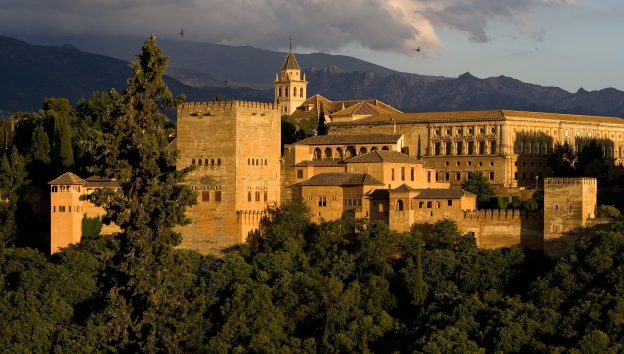 Spain has been a vibrant cultural center in Europe for centuries. The long and dramatic history of Spain has led to a country with a cultural depth that can be felt in almost every aspect of daily life. Some of the best ways to experience this culture are through its food and architecture.
Besides, you don't really need much of an excuse to eat the food and gaze at the colorful buildings in Spain.
For Americans, a trip to Spain is an eye opening and often life altering journey. The history, dishes, spices, and architecture in Iberia are very different than what is found throughout most of the United States. Your time is often going to be best spent hunting down these unique experiences.
The following are the ten locations and foods Americans must try their best to experience while in Spain:
Table of Contents:
Places Americans Must Visit in Spain
Visit the Alhambra in Granada
Go to the Central Market of Valencia
Hike at Volcan El Teide in Tenerife
Visit Plaza de España in Seville
See FC Barcelona at the Camp Nou
Foods Americans Must Eat in Spain
Eat Paella
Have the Gazpacho
Compare Tapas and Pintxos
Sample the Famous Queso Manchego
Get the Jamón Ibérico
Places Americans Must Visit in Spain
Spain is rich in historical, modern, and natural wonders. No matter where in the country you travel, there is a spectacular vista or castle that seems pulled from a storybook. For an American, the landscape and history of Spain provides a very different adventure than what we are used to. These are some of the best places in the country to visit:
1. Visit the Alhambra in Granada
Like the lands of Spain, the Alhambra has been modified to better reflect each successive kingdom that has come to own it. A Roman fort later reimagined into a palace complex by the Emir of Granada; it was then further modified after the Reconquista when it became the location of the Royal Court of Ferdinand and Isabella.
Today this palace is just as amazing as ever. The highlight is the unique Arabic designs and patterns that are unlike anything you will find elsewhere in the continent.
Worth noting for Americans, this is the place where Christopher Columbus got the royal approval for his voyage.
2. Go to the Central Market of Valencia
If you want to be immersed in the sounds, smells, and flavors of Spain, then spend some time at the Mercado Central in Valencia. This market is one of the largest in Europe and has been at the same location in Valencia since the early 1800s. The building is a unique Valencian Art Nouveau construction and is a beautiful host to this fantastic market. The food tours and tastings are highly recommended for those trying to sample as much as possible in a short time or aren't sure where to begin.
3. Hike at Volcan El Teide in Tenerife
Mount Teide is a volcano located in the Canary Islands, on Tenerife. Keep in mind, however, that Tenerife island hosts the Tenerife Teide National Park, which is more than just the volcano. This park has tons of activities that help you to explore the area, as well as tours that allow you to visit the caldera and take in much of the surrounding landscape.
A trip to Mount Teide is a fantastic outdoor excursion that will enable you to get out and get personal with the local landscape.
4. Visit Plaza de España in Seville
Built as part of the Spanish-American Exhibition of 1929 (Ibero-American Exposition of 1929), The Plaza de España was designed to be spacious enough to showcase the many exhibits of the event. The plaza is a large and beautiful half-circle surrounding the Vicente Traver fountain. There is a whole manner of symbolic structures representing aspects of Spain throughout, and you can spend an entire day simply admiring the architecture.
See the buildings of much of the Spanish government and take in some truly epic architecture.
5. See FC Barcelona at the Camp Nou
For Americans, soccer is not the same where we come from. You owe it to yourself to see just how the Europeans celebrate their favorite sport. Get lost amidst the FC Barcelona crowd in Camp Nou, or the Real Madrid fans at Estadio Santiago Bernabéu, and you may just begin to understand how infectious the atmosphere can be.
Foods Americans Must Eat in Spain
Both the buildings and the flavors of Spain have a unique mixture of Mediterranean and Arabic influences. The intense colors and spices are a mirror of one another and help your senses come alive.
Like the diverse and colorful locations we just covered, the food found in Spain varies greatly. These are some of the dishes you absolutely must try:
6. Eat Paella
While there are multiple variations of paella, they are all delicious rice dishes with intense flavors and rich traditions in Spain. Paella dishes are mixtures of meats and vegetables whose unique character is genuinely unforgettable
If you can, go all out and get authentic paella in Valencia.
7. Have Gazpacho
This dish may be strange to Americans, but it is a cold soup meant to be eaten on hot days. While contrary to our regular culinary habits, Gazpacho is famous around the world and exceptionally popular in southern Andalusian Spain.
Most Gazpacho consists primarily of blended raw vegetables.
8. Compare Tapas and Pintxos
Not actually dishes in themselves; tapas refers to a small amount of any Spanish cuisine. It has become an art form in Spain, and many places pride themselves on their unique tapas offerings. They even hold national tapas competitions in Spain.
Pintxos are the Basque version of tapas and favor the cuisine and tastes of the Northern regions.
9. Sample the Famous Queso Manchego
Coming from the La Mancha region, and mentioned in the story of Don Quixote, manchego is a famous cheese made from the milk of Manchega sheep. The cheese is often aged for up to two-years.
Queso Manchego is firm and buttery, and there is a reason it has been a favorite for hundreds of years.
10. Get the Jamón Ibérico
Jamón Ibérico is a unique form of ham derived from only the specially bred Black Iberian pigs. It is a very rich ham with a flavor coveted by both locals and tourists to the region. The ham is so famous that Spain has rules and regulations about the types of pigs that can be used for Jamón Ibérico.
These are just a handful of the many amazing locations and tastes to be found in Spain. While it would take a whole book to list all of the fantastic opportunities a trip to this Iberian land has to offer, this post has hopefully given you a start in planning for your next trip.
While the food and sights of Spain are amazing, the people are just as special -but you will want to be sure you are understood clearly. If you are looking for an accurate Spanish translator and other translation services, get in touch with TheSpanishGroup.org. We assist you throughout the process while our experts deliver accurate translations.