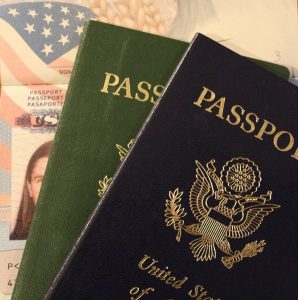 If you are like so many people, you may have once thought about visiting or even living in the United States. Such an undertaking requires many considerations, such as the time you will be there, how much money you will need to travel and have to spend once you arrive, what clothing to take, and the places you wish to see. But, before you can do this, you must understand that to enter this country legally, it will require that you meet certain requirements to obtain an Entry Visa.
There are many types of Visas to enter the United States depending on your particular case and needs. We will be talking about the most common of these Visas with their respective requirements so that you may begin to get an idea of what you will have to do to obtain your own Entry Visa.
Visitor's Visa
In this category, there are two specific types of Visitor Visas which are non-immigrant visas for temporary stays. There are acceptable reasons for a non-immigrant Visitor's Visa for a temporary stay either for business purposes (visa category B-1), or for tourism, pleasure travel or when you are just visiting (visa category B-2). Both of these categories have their own acceptable purposes before one of these visas can be granted and which are listed as follows:
So, you want to visit the United States for business reasons but you are not sure what you will need to be given one of these visas? Your first thought should be 'what I will be doing there during my temporary visit'. Some of the most important reasons which are considered by US Immigration officials are the following:
To consult with business associates / To close a business deal
To attend scientific, educational, professional or business conferences or conventions
To settle an estate, such as an inheritance
To negotiate a contract
Looking for potential business locations / Renting or leasing property within the United States.
But it is important to remember that under this category you cannot remain in the United States to manage your business or be paid by a US company while in the US. Also, to be granted one of these visas under US Immigration Laws it is important to remember:
If you are in the US to attend trade, scientific or educational conferences you are not permitted to be paid or to receive a remuneration while in the US.
If you are a speaker to one of these events, you will receive no salary while in the US other than travel expenses which are incidental to the visit paid for by the Company who hired you.
Essentially you cannot earn any money within the US while on a visitor's visa.
Your next concern should be the question 'how do I apply?' You are going to be asked to follow a series of steps which may vary depending on the Embassy or Consulate where you file your application. Fortunately, through the Internet it is possible to file an application on-line (DS-160 Form) which you have to fill out completely, and when you receive a confirmation page, you must print that and bring it to your interview. You will also be asked to upload a photo of yourself following the specific instructions which are explained in the Photograph Requirements section of the application.
The next step is to schedule an Interview either at the Embassy or Consulate in your country of origin, but an important consideration is to remember that it is difficult to schedule an interview outside of your native country. Another good general rule to employ is to schedule early because waiting times vary at different locations. Usually, interviews are not required for people of certain ages, but this is up to the Embassy or Consulate Official, for example:
13 years old and younger   >   Usually not required
14 years old to 79 years of age   >   Required  (with some exceptions in the cases of renewals)
80 years old or older   >   Not generally required
You may just be the type of person who has always wanted to visit the United States for pleasure. But, once again, these reasons require specific purposes so that you may be granted a Visitor's Visa under US Immigration Law, and the main ones are listed as follows:
tourism, to visit friends or relatives
for relaxation or for medical treatments
for activities which are fraternal or social in nature
to participate in sporting or musical events in an amateur standing where you cannot be paid for your participation while in US territory
Now you may be wondering 'how long I can remain in the United States with a Visitor's Visa?'. Well, that time is normally 6 months from your entry date but the visa may be extended up to 1 year if you qualify for a renewal. Another important thing to remember is that obtaining these Visas is not guaranteed. You have to have the adequate documentation to support the purpose of your visit and demonstrate sufficient evidence of family, economic and social ties to your country before a Visa is granted under these two categories.
Documentation
Before you present yourself for your interview it is necessary that you support the purpose of your visit with several documents which will be considered by the Consulate or Embassy in your country before they grant you a Visa, which are listed as follows:
A printed copy of the confirmation page which is sent to you after you submit your application.
A passport which is valid to travel to the United States for six months beyond the time you wish to be in the US.
The Application payment receipt which should be paid before your interview. (Application fee of $160 US)
The photo which is specified in the application form.
Additional Documentation
A document stating the purpose of your trip.
Your intention of leaving the United States after the conclusion of your visit.
Your ability to pay for the cost of your trip. How much money you will have to spend while in the US.
Evidence of your employment and/or family ties. You may be asked to produce bank statements which once again establish economic ties to your country.
Final thoughts
Just having completed the application form and having made the appointment for the interview, as well as having gone to the interview itself is NOT a guarantee that you will be granted a Visa. Do not buy plane tickets or make travel plans until you are granted the Visa. For any further questions consult the web pages which will give you the additional information necessary for your particular case and for your particular country of origin. Check back with us for our next blog which will cover other types of Visas.
Courtesy of The Spanish Group, Professional Translation Service