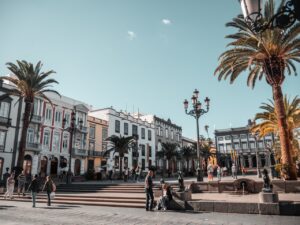 A Guide for Traveling to Spain
We are now on part 3 of our series on how to travel to Spain. In the last two pieces, we took a look at The Visa requirements to enter Spain and how you could go about filling those requirements. In part 3, we will finally examine what life in Spain is actually like.
In this article, we will take a look at the major things to consider before moving to Spain, and some of the pros and cons you can expect once you make that move.
If you have any needs or questions regarding translations and Spain visa requirements, reach out to our friendly staff today!
______________________________________________________________________________
In This Article:
Considerations for Moving to Spain
Some Major Benefits of Life in Spain
Some Possible Challenges of Life Spain
Getting Your Spanish Visa:
In This Series:
• In part 1, we went over the Spanish Short-term visa basics, also known as the Schengen Visa.
• In part 2, we went over the Spanish Long-Term visa basics.
______________________________________________________________________________
Considerations for Moving to Spain
Regardless of whether you are utilizing the Spain tourist visa (The Spain Schengen visa) for a short-stay or have a long-term visa for work or study, you should be aware of some unique aspects of Spanish life. Of course, the longer you stay, the more you will need to understand and take in stride as you live in Spain.
Remember, this is a culture with deep roots and traditions that date back hundreds if not thousands of years; there will be differences that you may find strange at first, but these are essential aspects of properly integrating into the broader Spanish culture. For most, the Spanish lifestyle is a slower, more deliberate, and more appreciative way of living.
For many, this culture comes with obvious benefits and a few things that take getting some used. The best way to prepare for these culture shocks is to know what to expect.
A New Adventure in Spain
Our following pros and cons list is a relatively superficial look at the country, but it is full of basic advice you should know before heading to Spain. Do not, however, let these basic generalizations allow you to create a preconceived notion of what you will find and discover. Spain is an ancient land that is still full of a vibrant and youthful mentality and energy. What you will see and who you will meet is something that you must discover for yourself.
Some Major Benefits of Life in Spain
These are some of the best aspects of life in Spain.
• Living Amongst a Deep Cultural and Artistic Heritage.
Over the millennia, Iberia has been touched by Ancient Carthaginians, Greeks, and Romans. Then there were Germanic tribes and centuries of North African rule that gave way to the Andalusian period's fantastic art and architecture, such as the Alhambra.
If you loved to visit beautiful castles, places, museums, and Villas, Spain has no shortage.
The fortresses of the Christian kingdoms followed up this period, then the explorers and artists of United Spain. Every patch of land in Spain is deep with history and culture, and there is always more to learn and explore.
• Good Climate, Beaches, and Sun
The climate in Spain is very agreeable and will differ quite a bit depending on its region. The Northern areas can get quite cold, though nothing like northern Europe, while southern Spain can get very warm in summer.
Visitors from all over flock to the Spanish beaches once summer comes rolling around. The hot summers are perfect for taking a quick dip into either the Mediterranean or the Atlantic ocean.
There is also plenty of natural mountains and other beautiful landscapes to get lost in and take in the Spanish sun. The diverse landscapes allow you to let your inner naturalist out and make for a drastic change of scenery in only a couple of hours of travel.
• The Food and Wine
Spain's delicacies and flavors vary from region to region, but they are all delicious and memorable. Seafood, rice dishes, chorizo sausage, pastries, tapas, and so much more. Even the most common menu selections in Spain are to die for with masterfully fried fish, gazpacho, paella; really, the list goes on.
Tapas are a common form of snacking and dining in Spain based on eating bite-sized servings of pieces of bread, cheese, seafood, olives, meat, and vegetables. Heartier than a typical appetizer.
The soil and climate of Spain have also resulted in some of the world's best wines. Spanish Red Wines are sought out around the world for their rich flavors and how they pair seamlessly with fine meats and cheeses. There is a vast number of both modern and centuries-old wineries in the rolling hills of Iberia that you simply must take the time to sample.
Some Possible Challenges of Life Spain
While Spain has many advantages, there are also quite a few quirks you may consider drawbacks.
• Spain is Louder than Many Places
Spanish culture is relatively loud and boisterous, and a quiet person may be caught off-guard by the loud music (and people) even late into the evenings.
• The Slower Pace of Life
Another common complaint is the slow pace of life. While a slower lifestyle may seem more relaxing, for many having to wait in long lines and for slower service is quite aggravating. You will need to get used to waiting; relaxing in Spain is an activity all on its own. Once you get used to it, it really can be pretty nice, but you will dread handling any paperwork in person.
• Crowding During the Summer
If you come from a coastal tourist city, you are probably used to this, but the coastal towns in Spain get visitors from all over when the heat hits, and they can become quite crowded. If you prefer a quieter and less busy lifestyle, you may want to look more inland.
• Taxes and Living Costs
This is more of a double-edged sword. In Spain, the general living costs are lower, but the taxes will be higher, and Spain taxes you on worldwide income. So social security and pensions, even from other countries, will be taxed by Spain for residents. For this reason, there is often a heated debate on retirees choosing between France or Spain.
Do you need a Visa for Spain?
As a quick review, since we are asked "do you need a visa to enter Spain?" or "do I need a visa to go to Spain" and "do you need a visa for Spain" the answer is yes. For short-term stays, you will get the Schengen Visa, and for longer-term stays, you will have to get a specific Visa to match your situation.
Though before you move to Spain long-term, it is probably best to get a holiday visa in Spain. To learn how to apply for a tourist visa for Spain go to part 1 of this Blog Series, where we went over the Spanish visa basics and the Schengen Visa.
Getting Your Spanish Visa:
In part 1 of this Blog Series, we went over the Spanish visa basics and the Schengen Visa.  In part 2, we went over the Spanish Long-Term visa basics and the process that entails. So will only briefly touch on the Spain visa application and Spain visa application form here. Getting your Spain visa requires their own articles.
When submitting any document or certificate to Spanish officials, if it is in a language other than Spanish, it should (and typically must) be officially translated into Spanish by sworn translators and certified by the Spanish Consulate in the country of issuance. This includes documents like criminal records, birth certificates, proof of income, and more. Some documents must be Apostilled. In the United States, the Secretary of State of each state can issue an Apostille. An Apostille can take anywhere between 1 day and three weeks to be given.
Luckily, The Spanish Group provides complete document translation, certification, and notarization services for every Visa process step.
• Always make sure to double-check the visa requirements with these official sources:
◦ Website for the Consulate of Spain in Washington
◦ Official Visa Information and Requirements
◦ U.S. Department of State, Spain International Travel Information
The required Spain tourist visa documents are less than the long-term Spain visa documents. Spain travel visa requirements are not as strict since you will only be spending a relatively short time in the country.
Whether you need an apostille, authentication, translation, or certification, The Spanish Group will ensure you receive complete document services at best possible pricing. It has never been easier or more affordable to have experienced experts on hand. If you have any further questions about documents that may be required and how to prepare them for submission to Spanish officials properly, reach out to our friendly staff today!